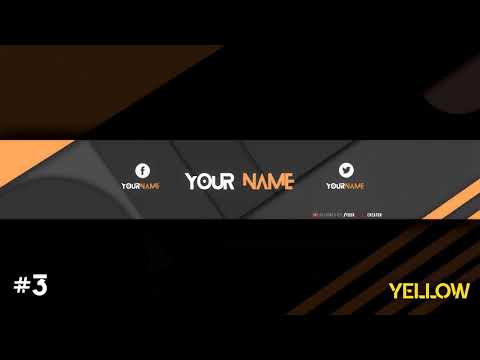 Another Collection of Top 5 Professional & Simple Banners (Channel Arts) For Your YouTube Channel! You don't have to create your banner design from scratch. Just start from one of our ready-made templates! Choose the perfect YouTube cover for your channel without any design skills.
Why Should You Use Nice Channel Art?
Well, I guess the answer to that question is something we all know! If you are a YouTuber and make videos, you probably want those videos to gain more views and lead to viewers subscribing to your channel, right? Now that's what would happen if the viewer liked your content and visited your channel. Imagine he sees a really ugly big banner covering more than 25% of the whole page, that's your channel art right there. And In order for them to stick, you will need something that is more of an artwork. Well, that's what we have for you today. You can choose from over 5 template (channel art designs) and see which one you like the most and suits your channel better.
How Do I use these Templates?
Good question! We make these designs (templates) in a program called Photoshop. So In order to edit the details inside it, such as your YouTube Channel's Display Name and your Social Media Usernames, you will have to Install Photoshop your Computer. Photoshop will allow you to edit all of these things easily.
What Resolution Should My Channel Art Be?
All of our Channel Art Templates are High Resolution 2560x1440 Pixels. That is also the Recommended size according to YouTube. Other than that, there might be some low resolution overlays, but that wouldn't look bad as that's what we are here for! Most people may try to use lower resolution banners which YouTube will most likely reject. So to be sure, You can use our Channel Art templates and forget about Quality and Resolution!
REQUIREMENTS
---
1.
Adobe Photoshop
CS6 (or Higher).
2.
7-zip
/ WinRAR(or any other archive extraction program).
INSTRUCTIONS
---
1. Watch The Video & Choose Your
Template
.
2.
Download
& Install the Required Font.
3.
Download
The Template from the links below.
4. After downloading,
Extract
the
.psd
file.
5. Open the
.psd
Template with Photoshop.
6. In the
Layers
Section, find the layer named
YOUR NAME
(Or
Center Name
).
7. Double-Click on the Icon of that Layer to
Edit
the Text.
8.
Repeat
"Step 7"
for the
Social
Links (if any).
9. After you are done editing,
Save
the File from File Menu.
10. Finally, Export The Image by Going to
File > Export > Quick Export As PNG
.
Thats All! Enjoy The Free Template & Don't Forget To Like, Share & Subscribe :)
DOWNLOAD LINKS
---
Sharing is caring!